June 23, 2015 in Delivery, Facilitation, Greg Owen-Boger, Meetings, News, Preparation, Presentation, The Orderly Conversation, Video, Virtual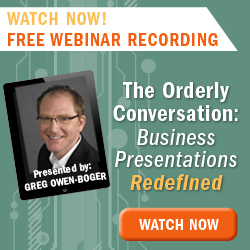 Greg Owen-Boger, Turpin Communication's VP and Dale Ludwig's co-author, was invited to talk about The Orderly Conversation: Business Presentations Redefined as part of the PresentationXpert Webinar Wednesday series.
There were a lot of great questions asked during the session, and it's becoming abundantly clear that there's a huge need in the business world to improve efficiency and effectiveness of presentations, meetings, and training sessions.
Here's what a few people had to say after the webinar:
"Amazing … I cannot thank you enough for the amazing and professional job you did in today's webinar."
Sharyn Fitzpatrick, Webinar Chick, Marcom Gurus
"Nice to see a pro in action."
Dave Zielinski, Editor, PresentationXpert
View the recording from the June 17, 2015 webinar hosted by PresentationXpert.
---
About the Book
The Orderly Conversation is a groundbreaking resource for business presenters.
It offers a new approach to the getting-business-done presentations you deliver – an approach that's more appropriate for the real world of business and more practical for every type of presenter and presentation.
The business presentations you deliver are not static or one-way. They are an exchange of information that have much more in common with informal conversations than formal speeches. They require a preparation process that looks ahead to the conversation that will take place and a delivery process that is flexible and responsive.
The authors' goal with this book is to call out many traditional assumptions about what it takes to succeed and replace them with something better.