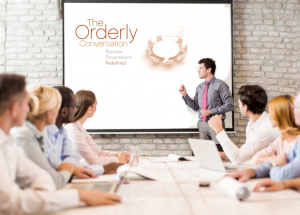 Turpin Communication conducts certification programs for professional trainers to train their employees (or clients) on our methodologies and the concepts explored in The Orderly Conversation. This program is a good solution if you're looking for scalable, cost-effective ways to bring the business benefits of more effective communication to your enterprise (or clients).
The Certification Process:
Step 1: Read "The Orderly Conversation" and study the primary concepts introduced in the book.
Digging into the concepts will give you a good sense for whether our methodology is a good fit for you.
Step 2: Send us a video of you in action in the training room.
The quality of the video isn't important, but the quality of how your conduct yourself in front of a room of adult learners is. Once we receive your video we'll set up an interview so that we can get to know one another.
Step 3: Attend "Mastering Your Presentations," a 2-Day Public Workshop in Chicago.
Participating in a workshop serves several purposes. First, it will allow you to experience the program as a learner. You'll also be able to observe how experienced facilitators present the material, manage the video-review process, and create a safe environment for the participants. You'll also hone your own presentation skills along the way.
Step 4: Attend a 3-Day Train-the-Trainer certification session led by the authors.
During this intensive (and perhaps one-on-one) training you will learn the skills, techniques, and methodologies behind Turpin's success in the training room. Throughout the certification process, you will learn, practice, and refine:
How to expertly present the theory underlying The Orderly Conversation and its supporting concepts
How to model Turpin facilitation techniques
Teaching tips to manage all aspects of the workshop
How to deliver feedback to presenters using Turpin's PROS model (Proportionate, Relevant, Observable, Specific)
How to facilitate group feedback
How to listen and respond to your audience in a way that encourages participation and class engagement
How to handle participants' questions, concerns, and pushback
How clients have tailored the workshop objectives to meet the unique needs of their participants
You'll also learn to manage class logistics such as
Using an LMS (your own or ours) to enhance learning and provide pre-work and post-workshop skill reinforcement
Type of camera to use and how to use it
How to adjust the session for big groups or trimming the training down to one day
Upon successful completion of the Train-the-Trainer, you will be certified to lead a workshop called The Orderly Conversation: Presentation Skills to Move Business Forward. In addition, you will receive
Step-by-step facilitation guide
Trainer deck with embedded instructional videos
Guide for answering learner FAQs
Recommendations for follow-up skill reinforcement activities
Access to digital versions of all facilitator materials
Access to Turpin coaches for when you need advice
Sales copy
Marketing copy and logos to use in internal marketing
Step 5: Schedule and conduct your workshops.
As a Certified Orderly Conversation trainer, you are required to purchase a Course Materials Packet for each person attending your training. Each packet includes everything attendees will need for the workshop including
Participant Guide
Framing Strategy Worksheet
A copy of The Orderly Conversation: Business Presentations Redefined
A copy of The Orderly Conversation: A Field Guide
Course evaluation
Certificate of completion
---
To express interest, please contact Greg Owen-Boger, Turpin's VP.
greg@turpincommunication.com
773-239-2523
---
Fees:
Public Workshop: $1,600
Train-the-Trainer Certification session: $3,000
Course Packet for each attendee. Price per packet is $299 ($149 for non-profits)
If you opt in to using eCoach (LMS) for pre-work and post-workshop follow-up, it's $299 per workshop.
FAQs

Q: Do you certify independent consultants?
A: Yes, if they meet our expectations.

Q: We're a non-profit; do you have special pricing?
A: Yes. Contact us for more information.

Q: Can you certify my whole team?
A: Yes. It might make more sense for us to come to you than for your team to come to Chicago. Let's talk about the possibilities and come up with a good solution.

Q: What ongoing support do you provide?
A: After being certified, you will be assigned a Turpin mentor whom you may call upon at any time. We also conduct quarterly virtual meetings for all of our certified trainers. This is a forum for asking questions, sharing best practices, asking for help, receiving updates from Turpin, and so on.

Q: Are you certifying me or my company?
A: You. If you leave your current company, your certification goes with you.

Q: How long does my certification last?
A: As long as you want it to. We will check in to see how you're doing every three years or so. If we feel you could use some polishing of your skills, we'll work with you on a case-by-case basis.

Q: Can the workshop be tailored to my organization's needs?
A: Yes. We provide  guidance for this during the certification process. If you need additional help, just let us know.

Q: I already facilitate a presentation skills workshop. What's the benefit in becoming certified on your content?
A: You're not alone. A lot of people train these skills. What sets Turpin Communication and The Orderly Conversation apart is our unique methodology and focus on the practicalities of business communication. We will encourage you to leave conventional, rule-based methodologies behind and replace them with techniques more appropriate for the way business is conducted.