We make speaking engagements interactive and practical.
Co-authors, Dale Ludwig, Ph.D. (President & Founder) and Greg Owen-Boger (Vice President), are available for speaking engagements at industry conferences, association meetings, corporate lunch & learns, and keynotes. The sessions are tailored to the group of attendees and always help them apply the Orderly Conversation concepts to the types of communication situations they face.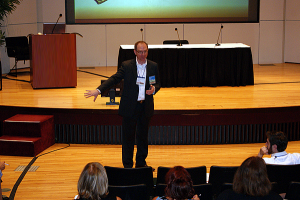 Timing for each can vary, but most are delivered in one to two hours depending on the size of the group. More in-depth half-day sessions are also an option.
Session descriptions, which are designed for specific audiences, are in the navigation panel above.
View current schedule of public sessions on the Turpin Communication website.
Looking for interactive skill-building workshops? Visit the Training page.
Contact us at
engage@theorderlyconversation.com or call 773-239-2523 if you're interested in learning more.