April 15, 2013 in Author, Dale Ludwig, Delivery, Facilitation, Posts for Buyers, Preparation, Presentation, Training
A Discussion of Turpin Communication's Core Principles:
Default Approaches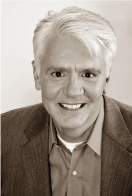 This is the second in a series of four posts focusing on Turpin's core principles. In the last entry I focused on the Orderly Conversation, our term for the presentations business people deliver. As I said, the characteristics of a presentation that make it a Conversation always compete with those keeping it Orderly. It's the presenter's job to stay on track without sacrificing the spontaneity or immediacy conversations require.
Managing this tension would be a relatively easy thing to do if you were simply having a conversation with a coworker about a project you're working on. Information would be exchanged, points made, and supporting arguments explained. With a presentation, you're still having a conversation with your audience, but you have a specific goal you want to achieve, you're probably using slides or a handout, and you have time to prepare.
Presenters respond to this challenge in one of two fundamental ways. We call these responses Default Approaches. One group, the Writers, default to the orderly side of the process. It's natural for them to approach presenting as a linear process. Writers rely on preparation, detail, and control for success.
For the other group, Improvisers, the conversation is always front and center—even during the preparation process. These presenters rely on their ability to engage the audience and keep the conversation going.
Both Defaults bring important skills and strengths to the process, of course. They just need to keep things balanced. The conversation needs to breathe without straying too far off course.
Individual presenters must be aware of their Default Approach so they know which side of the process they should focus on. When we work with Writers, our goal is to increase their comfort with the spontaneous, sometimes-messy process of delivery. For Improvisers, improvement is found by making peace with the framework of the presentation and trusting it to make understanding easier.
As I said in the last post, everyone improves along a separate path. Insight into your Default tells us where that path starts.
In the next post, I'll write about the connection between engaging listeners in the conversation and reduced nervousness.