January 9, 2014 in Author, Dale Ludwig, Delivery, Introduction, Myths Debunked, News, Preparation, Presentation, The Orderly Conversation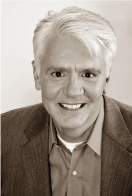 You might have heard about the public speaking nightmare film director and producer Michael Bay experienced at the Consumer Electronics Show January 6.
A word of warning, though, if you're sensitive to watching someone have a meltdown and walk off stage without delivering his message, prepare yourself. I found it really painful. And it's only 80 seconds long.
The responses to this that I've read online have focused on Bay's need to rehearse more, his over-reliance on the prompter, and the fight or flight instinct he followed. You can read an article by Nancy Duarte (of Slide:ology fame) and others' responses here.
Be Careful, Business Presentations are not Speeches
As someone who works with business presenters, I think the responses to Bay's situation are a great opportunity to reassert a distinction we always emphasize in our workshops—the distinction between speeches and presentations.
Don't assume that what would have helped Bay will help you. Remember the presentations you deliver are not speeches. They are Orderly Conversations. As such, they require an entirely different approach. Bay was trying to deliver a scripted message that was intended to sound conversational, not really be a conversation. While extensive rehearsal may have helped him, it won't help you. The presentations you deliver are far too unpredictable for that.
Bay's performance is a good warning for people who believe in scripting or memorizing the beginning of a presentation. Your presentation's introduction is an important time. During that first minute, it's your job to bring the audience into the conversation by responding to them and the environment you share right now. This cannot happen when you're scripted. Even if you can appear to make it happen (which requires acting skills), you will not be fully engaged in the moment. Because of that, it's really difficult to respond appropriately to the unexpected.
Bay trusted the prompter and it failed him. You need to trust yourself. Managing the unexpected—something business presenters face all the time, speechmakers not so much—requires staying engaged and giving yourself time to think. I'm sure when Bay watched the video of his performance, he knew exactly where he went wrong and what he should have done instead. We see this happen all the time reviewing participant videos in our workshops. It's easy to know, after the fact, what should have happened. So it's not a matter of coming up with something new when you're stressed. It's a matter of settling your thoughts so you can tap into what you already know.
So while Bay's performance is a cautionary tale for speechmakers, for business presenters it's an excellent reminder that your first responsibility is to initiate a conversation with your audience. Once that conversation has begun, it's easy to bring what you have prepared into it.
by Dale Ludwig, President & Founder of Turpin Communication and co-author of the upcoming book, "The Orderly Conversation"