November 11, 2010 in Dale Ludwig, News, Video
 FOR IMMEDIATE RELEASE
Media Contact:
Dale Ludwig, President
773-445-8855
dale@turpincommunication.com
www.TurpinCommunication.com
Chicago, Illinois – Nov. 11, 2010 – Turpin Communication, a Chicago-based training company specializing in presentation and facilitation skills development, is partnering with KinetiCast, a provider of online presentation tools for sales professionals. The result is multi-media presentations that are organized and delivered to help businesses increase sales.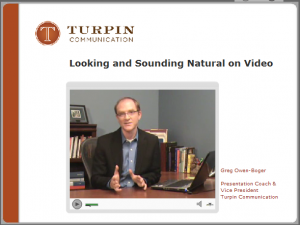 KinetiCast empowers users to create, email and track online presentations that can help qualify prospects, shorten sales cycles and close more deals. For example, a KinetiCast user can email an online presentation, including a personalized video, to potential clients. The presentation would provide details about their services. The video would be used to thank the prospect for their interest and make a special offer.
Turpin is helping KinetiCast users be more effective with a series of "how to" videos, available on the KinetiCast Web site. The three videos explain how to organize presentations for online viewing, how to engage viewers through the lens of a camera, and how to make various media elements work together as a whole. While these videos were developed with KinetiCast's users in mind, non-users also will find significant value in Turpin's communication expertise.
"We took on this project because Turpin helps people prepare and deliver all kinds of messages — not just traditional presentations," said Dale Ludwig, Turpin Communication president. "We are a big fan of the KinetiCast system – we actually use it in our own business. KinetiCast is a great way for business people to connect with clients and potential clients. The videos we created help Kineticast users to be even more effective – they're concise and packed with useful information."
"KinetiCast users are going to get significant value from these videos," said Michael Grosso, President of KinetiCast. "Offering Turpin's communication expertise along with our online sales presentation tool, sales professionals will get the most from our unique product and be even more effective in their sales efforts."
The videos can be viewed at: http://www.kineticast.com/turpin.
About Turpin Communication
Turpin Communication has been consulting, coaching and training business people in how to effectively communicate since 1992. Turpin's goal is to help presenters and group facilitators develop the skills and insight they need to succeed. Turpin delivers corporate and e-learning videos, group workshops to a variety of clients, open-enrollment classes for individuals, and presentation skills training delivered online. www.turpincommunication.com
About KinetiCast
Founded in 2007, KinetiCast is based in New York's Tech Valley. www.KinetiCast.com