June 1, 2016 in Dale Ludwig, Delivery, Meetings, Posts for Buyers, Presentation, Talent Development, Training
Originally published on Training Industry's blog May 23, 2016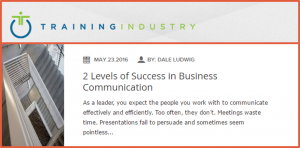 As a leader, you expect the people you work with to communicate effectively and efficiently. Too often, they don't. Meetings waste time. Presentations fail to persuade and sometimes seem pointless. Employees disengage, and everyone dreads the next meeting.
Much of this could be avoided if people remembered that all business communication—whether it takes place during meetings, presentations, or important one-on-ones—has to succeed on two levels. Helping your employees understand this is the first step toward improvement.
The first level of success gets a lot of attention. It's about achieving a business goal—getting others to understand, buy or agree to something—whatever needs to get done that day. The business goal cannot be reached, or reached easily, without the second level of success.
The second level is about how the communication process is managed. No one wants to feel they have to work hard to understand what's going on. Nobody wants to feel their time is being wasted. What everyone does want is a sense of ease, relevance and efficiency. Or, to put it another way, people go into every meeting, presentation or training session with three needs in mind:
They don't want to work harder than they have to.
They want it to be about them.
They don't want to feel their time is wasted.
by Dale Ludwig, President & Founder of Turpin Communication and co-author of the book, "The Orderly Conversation"