April 16, 2014 in Delivery, Facilitation, News, Preparation, Presentation, Talent Development, The Orderly Conversation, Training, Uncategorized
Granville Circle Press announces the July 2014 publication of "The Orderly Conversation," a groundbreaking resource for business presenters.
News Release – PDF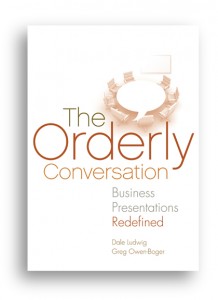 Granville Circle Press announced today the publication of "The Orderly Conversation: Business Presentations Redefined" by Dale Ludwig and Greg Owen-Boger, a book that promises to change the way business presenters think about the "getting-business-done" presentations they deliver. The authors, communication experts with Turpin Communication (Chicago), offer a revolutionary approach that turns the old "Public Speaking 101" model on its head.
"Much of what's taught about business presentations needs to be replaced," says Ludwig. "Traditional methods focus on 'speechmaking' and the notion that presentations are like performances. That concept just doesn't match the kind of presentations people actually give in the course of their work. Business presenters need a fundamentally different approach."
That approach, say the authors, is one that shifts from "speechmaking" to thinking of business presentations as "orderly conversations" that thrive on the natural give-and-take between presenter and audience. Developed through Turpin Communication's presentation workshops, Ludwig and Owen-Boger have seen this shift dramatically improve and empower their clients.
"Most presenters knew they weren't delivering formal speeches, but the assumptions they were making and strategies they used didn't reflect that," says Owen-Boger. "Thinking of presentations as conversations changes everything: from preparation and delivery, through managing interactions, to how you judge your success when it's all over."
The Orderly Conversation takes readers through a clear and accessible process, inviting readers into one of the authors' workshops to learn how to
Prepare for a genuine conversation
Engage listeners in a comfortable, flexible, conversation
Craft compelling visual aids that prepare you for the moment of delivery
Create the environment for productive interaction
Be clear and concise when thinking on your feet
"Most books on the subject stress how to look good speaking at people," said Blaine Rada, professional speaker and management trainer named "America's Greatest Thinker." "'The Orderly Conversation' shows how to truly connect with people, so you can stop performing and start engaging."
Granville Circle Press calls their latest offering "eminently practical; real-world advice for the real world of business." Due to be released in July 2014, The Orderly Conversation is available for pre-order.
ABOUT GRANVILLE CIRCLE PRESS
Granville Circle Press publishes works in the communication arts, including "Living Proof: Telling Your Story to Make a Difference," selected by Kirkus Reviews as a "Best of 2012." The Orderly Conversation, ISBN 978-0-9838703-2-6 $21.95
ABOUT TURPIN COMMUNICATION
Turpin Communication (Chicago) was founded in 1992 to provide the best presentation and facilitation skills training available anywhere. Since then it has helped business presenters in a broad range of industries and organizations focus on the skills and techniques that help them succeed. Authors Dale Ludwig and Greg Owen-Boger are available for key note addresses and to speak at conferences and corporate meetings.
Contact
Kyle Carlson
Granville Circle Press
+1 612-229-8896
Email
Dale Ludwig and Greg Owen-Boger
Turpin Communication
773-239-2523
Email