March 14, 2014 in Author, Delivery, Greg Owen-Boger, Meetings, Virtual
To guard against sounding tired or uninspiring when leading a virtual session, I always recommend standing whenever possible. Being on your feet allows you to move around the room, keep your energy up and your voice bright.
As you can see in this photo, taken during a session I led for Training Magazine Network called Virtual Presentations that Work: Breakthrough to Engage Clients and Staff, I have the room set-up to help me stay on my toes during the session.
In the photo, you can see I'm wearing a phone headset and there are three computer screens. I'm logged in as a presenter on the laptop to my left. The big screen TV on the wall, which I look at most of the time, is projecting the same thing. The computer on the right is logged in as a participant, which gives me a sense of how much lag I'm dealing with.
The flipchart directly behind the laptop on the left is for my notes—used mostly to help me remember key information: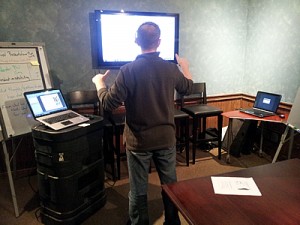 The name of the session (yes, that's something I might forget).
The names of my hosts.
A couple key phrases and leading questions, should I need them.
The time I need to be done.
You can also see that I have a hard copy of my presentation on the conference room table behind me. It's there just in case something goes wrong with the technology and I have to wing it.
You may not have the luxury of a private room when presenting virtually, but I hope you'll be able to borrow some ideas from this approach.
What ideas do you have for staying energetic and working the Virtual Room?
by Greg Owen-Boger, VP at Turpin Communication and co-author of the upcoming book, "The Orderly Conversation"