December 1, 2010 in Dale Ludwig, Delivery, Greg Owen-Boger, News, Preparation, Sarah Stocker
Take your presentations (or your team's) to the next level by participating in a highly interactive 2-day presentation skills workshop in Chicago presented by Turpin Communication.
2011 Presentation Skills Workshop Dates in Chicago:
January 11-12
April 12-13
July 11-12
October 25-26
These sessions are open to the public and are designed for business presenters at all levels. Enrollment is limited to just 8 participants. Each session will be taught by 2 instructors to ensure plenty of personal attention. See below for more information.
Reserve your spot soon because space is limited to just 8 participants. 
Hope to see you in 2011!
Course Overview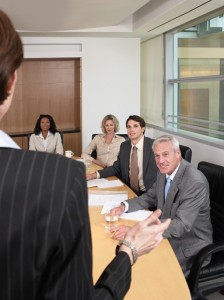 During this highly interactive workshop, we'll help you
Find your focus. Be yourself. Only Better.
You'll capitalize on your strengths and develop the skills you need to overcome your weaknesses. You'll also learn:
How to engage your audience and appear more comfortable
How to feel less nervous
How to organize your presentations more clearly and efficiently
How to improve the design and delivery of your PowerPoint slides
How to make sure what you say is actually heard
How to manage questions and interruptions during your presentations
Throughout the course, you'll work on a real-life presentation of your choosing. All exercises are videoed, but your videos aren't replayed in front of the group. Instead, after the exercise, you'll watch your video with a coach. This private coaching will provide additional – and very valuable – feedback to help you integrate what you've learned in class into the situations you face outside of it.
The course includes 12-month access to eCoach, Turpin's online skill-reinforcement tool.