May 13, 2014 in Author, Greg Owen-Boger, Posts for Buyers, Talent Development, Training
UPDATE: Back By Popular Demand
Greg's been asked back to deliver this same session two more times at the 2015 Association for Talent Development International Conference & Exposition (ATD ICE).
---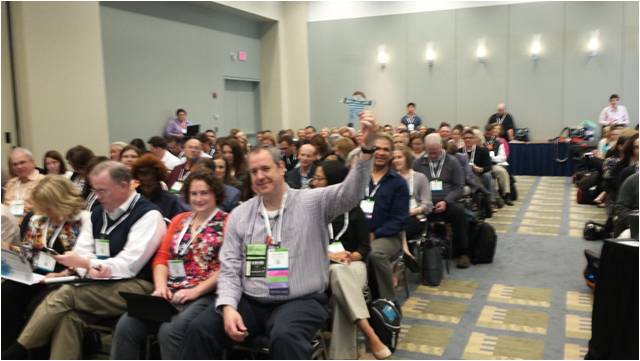 I had the pleasure of speaking at the ASTD (renamed ATD mid-conference) International Conference & Exposition in Washington, DC last week. The audience for my session included instructional designers and leaders within the training & development function. The topic was about ways to coach SMEs to be more effective in the training room.
The session, as you can see from the picture, was packed. Over 200 people attended, and more would have joined had the room moderator not closed the door and turned people away. I was reminded (again) how hungry the training industry is for help working with their Subject Matter Experts.
Why Bother with SMEs?
There's good reason to involve SMEs in the training process. They bring credibility, depth, and enterprise-wide perspective. They can also cause frustration for everyone involved, including the learner. And when learners are frustrated, learning doesn't happen as fully or as efficiently as it should.[Tweet "when #learners are frustrated, #learning doesn't happen as fully or as efficiently as it should."]
The Challenge We See
In our experience, working with SMEs to improve their effectiveness in the training room, my colleagues and I have discovered a few things:
Materials, slides, and facilitator guides are rarely created with the SME's delivery style and experience level in mind.
SMEs want to do a good job as trainers, but they don't fully understand what the job is and what's expected of them.
They usually focus too much on the information rather than the application of the information to their learners' jobs.
They don't understand how to frame the information to provide proper context to the learners.
They often aren't given proper training.
In short, organizations aren't setting the SMEs up for success. They're not getting the resources they need to be effective presenters and facilitators of learning. This, in turn, leads to dull learning events and the loss of learners' good will.
The Solution
Let's not beat up on SMEs too much. They mean well, but they need help.
On the instructional design side, they need materials designed to support them and their unique needs. Design elements that work for professional trainers don't necessarily work for others outside the industry.
In the training room, once the session starts, they need to understand that they wear two hats.
The Expert Hat is the obvious hat that they wear. This is the one they wear when they are talking about data, details, and their area of expertise.
The Trainer Hat is less obvious, but a much more important hat. This is the hat they need to put on to provide context, connect dots, and to facilitate learning and the application of the information to the learners' jobs.
Once they understand their dual purpose in the training room, SMEs are much better able to facilitate learning.
Contact us at info@turpincommunication.com to learn how we can help your SMEs be more effective in the training room.
Postscript #1: SMEs From the Ground Up
I was glad my session at ATD ICE was on Tuesday because that gave me an opportunity to sit in on Chuck Hodell's session on Monday. He wrote the recent book SMEs From the Ground Up. If you work with SMEs, I highly recommend it. He has some fresh thinking that's well worth taking a look at. During his session, Chuck talked about ways to manage SME relationships, set expectations, and celebrate their accomplishments.
Perhaps his most impressive thinking, though, is around redefining who the SMEs are on any given project. He writes, "… SMEs are both content-related and process-related. The programmer, the writer, the teacher/trainer and the manager are all SMEs in ways that matter in our work. Identifying and working with all of these specific types of SMEs provides endless possibilities for improved products and processes."
Postscript #2: Is that Flat Stanley in the Picture Above?
Yes! Not only did I get to speak with 200 learning & development professionals, I got to do it with my Great Nephew Jayce's Flat Stanley! It's a cool project. If you're not familiar with Flat Stanley, click this link: https://www.flatstanley.com/about
by Greg Owen-Boger, VP at Turpin Communication and co-author of the upcoming book, "The Orderly Conversation"