March 19, 2013 in Author, Dale Ludwig, Delivery, Posts for Buyers, Presentation, Talent Development, Training
Part 1, Part 2, Part 3, Part 4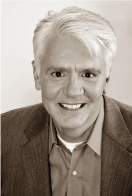 This is the last article in a series about the characteristics of successful business presentation training. The question I've set out to answer with the series is "How do I know I'm getting presentation skills training that will give me the skills I need to succeed on the job?" In the last entry, I focused on why real-life presentation content is a must. In this post I'll focus on why understanding what you bring to the workshop is just as important as what you take away from it.
As I said before, your response to the content you deliver must be taken into consideration. When it isn't, training becomes an academic exercise, one that may be interesting, but ultimately not that useful.
This same idea applies to your improvement as a whole. Your personal responses to the challenges of presenting have to be taken into consideration. This begins with the surface-level, but it doesn't end there. Only by digging a little deeper, to find out what's beneath what you're feeling and thinking in the moment, can real improvement be achieved.
For example, nervousness is a common response to presenting. It is also a complicated response, unique to everyone who experiences it. Some presenters are nervous about what they're saying, not quite sure if they will be able to stay focused on the plan. Others are nervous when they're the center of attention. Still others are nervous about the audience or a particular person in the audience. Once the cause of your particular type of nervousness is found, you can be coached to focus on the behaviors that will help you manage it. Without understanding what's behind the nervousness, coaching is hit or miss.
Another example involves presenters second-guessing themselves. Many of the people we work with tie themselves up in knots of self-doubt. They worry that they aren't making sense or that some point or other didn't come out the way they'd hoped. Coaching these presenters begins by figuring out if what the presenter is feeling is accurate. Are they really stumbling? Sometimes they are. But most of the time they aren't. When that's the case, the presenter just needs to understand that it's in their nature to monitor themselves a little too strictly. And that means they can trust themselves more than they think. When they do, their confidence and comfort increase.
We always tell the people we train that we want them to be themselves. They don't need to change who they are to succeed. My point here is that being yourself begins with knowing yourself. Success begins with an understanding of your visceral response to the challenges of presenting. On this level, there are no right and wrong responses. There is simply your response. Training should help you understand what that is and what you can do to manage it.
So to wrap up this series, remember that successful presentation skills training has these characteristics:
It focuses on presentations, not speeches. They are not the same.
It builds skills from the inside out.
It focuses on the nitty-gritty challenges of real-life content.
Coaching begins with an understanding of your unique response to the challenges of presenting.
Part 1, Part 2, Part 3, Part 4

by Dale Ludwig, President and Trainer at Turpin Communication