February 4, 2010 in Author, Delivering Your Presentation, Delivery, Engaging Listeners, FAQs, Greg Owen-Boger, Presentation
This question came from Manny D.
QUESTION: Why is it so hard to speak to big groups!?
I am terrible at giving presentations. I'm okay when explaining things to a few people, but put me in front of more than 15 people, and I start bumbling and stuttering, and I can't focus. Why is this, and what can I do? I have a series of presentations to give to groups of 30+ people starting in a month or so, and I'm terrified.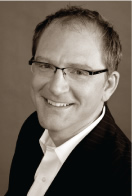 ANSWER: You're not alone. What we've discovered while delivering our Presentation Skills Workshops is that nervousness can be managed. It takes time and practice, and it may never go away completely, but there are techniques and skills you can hone, which will lower your nervous reactions to presenting to groups.
You say you're okay presenting to small groups. That's great. So what's the difference between a group of say 5 and one of 30? If you're like most people, it's your perception. A large group is no different than a small group. You just have more people to engage in the process.
Adjust your expectations. It's common for people to think of presentations as performances that must be perfect. Presentations should be thought of as "Orderly Conversations." "Orderly" because they are carefully structured. "Conversations" because they need to be spontaneous and interactive right from the start. Thinking in this way can relieve a lot of pressure. You no longer need to be a whiz-bang performer; you simply need to engage people in a thoughtful, two-way conversation, which by its nature is imperfect and unpredictable. And participating in conversations is something you do every day.
Work to engage individuals, one at a time. Do this through solid eye contact. Think of it as connecting with a person for a full thought, then moving on to the next. This will feel more like a series of one-on-one conversations rather than a stress-inducing one-way speech. And because you're really connecting with people, everyone else in the room will feel engaged too.
You say that when you're nervous you can't focus. This too is common. You need to give yourself time to think. Pausing is key. Pause often and for longer durations than you think is necessary.
We have an online course called Managing Nervousness & Engaging Listeners that you may want to check out. http://www.onlinepresentationskillstraining.com/managing-nervousness-engaging-listeners.php
Hope this helps.
by Greg Owen-Boger, VP and Trainer at Turpin Communication