Engaging Others in an Orderly Conversation:
A fresh approach for high-stakes communication with employees, clients, and practically everyone else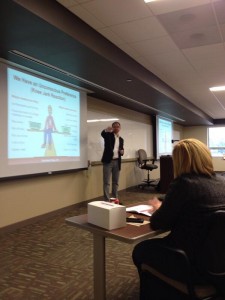 Audience: Managers, Leaders, HR Professionals
Speaker: Greg Owen-Boger, VP Turpin Communication
Duration: 60 – 120 minutes
We all speak in public and in private. Sometimes those discussions, presentations, sales conversations, and meetings go well. Other times? Not so much.
When the stakes are high, you might:
Get caught up in too many details
Experience nervousness
Get emotional
Feel as if you need to be perfect
Fail to persuade
Fail to think on your feet
Have a hard time bringing things back around after a derailment
Feel threatened if people don't agree with you
Have difficulty managing time
Struggle delivering messages developed by others (that you may not even agree with)
At the heart of this session is the notion that presentations, meetings, one-on-one performance management discussions, sales conversations, hirings and firings are all Orderly Conversations, a type of communication that combines a carefully organized message with flexible, spontaneous delivery.
More interactive than a speech, more structured than an informal conversation, Orderly Conversations are uniquely powerful because they are both spontaneous and prepared. The challenge is we each have an inherent preference for one side of the Orderly Conversation over the other. Recognizing (and adapting to) your Default Approach allows you to capitalize on your strengths and compensate for weaknesses.
This is not a session about tips and tricks. Instead, it's a serious, big-picture look at group communication. It's about the skills and techniques you use to engage people in the conversation and get your message across.
We'll examine:
Engagement, thinking on your feet, and managing a genuine Orderly Conversation
Techniques to meet listeners where they are (so they are willing to move forward with you)
Your Default Approach and what it means to prepare to be spontaneous
Skills for encouraging participation in the conversation while controlling the message
New language for coaching others
Participants have their say:
"Totally worth it. Great takeaways. I will use what I learned on a daily basis!"
Contact us at
engage@theorderlyconversation.com or call 773-239-2523 if you're interested in learning more.