October 21, 2014 in Author, Barbara Egel, Delivery, Presentation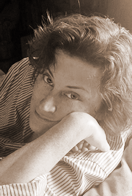 Recently in a Speaking with Confidence and Clarity workshop, I was coaching a young man who was counting his "ums" as he watched his video. This was a continuation of something that had gone on in the main room with the whole class: they were counting each others' "ums" and "uhs." As he quantified his errors, I realized that he was taking part in the very natural—and completely unproductive—behavior of beating himself up for irrelevant transgressions. After all, the "ums" weren't that distracting. If he hadn't pointed them out, I would have missed most of them.
Focusing on the mistakes just makes more of them

The problem with taking note of every "um" (or "uh," "like," "and stuff," "you know") you say is that you issue yourself a little mental punishment, like a tiny electric shock, every time you do. Punishment instills fear, and fear pulls you out of your engagement with your audience, often leading to more of the behavior you were trying to limit. In other words, focusing on your bad moves gives them way too much power and increases the chance they will happen again.[Tweet "Focusing on your bad moves gives them way too much power and feeds their ability to happen again and again."]
So what's the solution? Reward.

I suggested to this learner that rather than falling into the self-defeating spiral of counting his "ums," he should instead find moments to reward himself for staying engaged and on track (in spite of the "ums") with a big helping of oxygen. Yep, just take a breath. A breath is a pause, and pausing is a powerful engagement technique. Not only will he pull away from the disengaging punishment spiral, but he'll actually be moving in the opposite direction toward meaningful engagement. This will boost his confidence, literally feed his brain, and calm his nerves. [Tweet "Find moments to reward yourself for staying engaged and on track with a big helping of oxygen."]
Treat yourself!
My challenge to you, then, is to escape the punishment cycle and find your during-your-presentation reward in a nice big breath. By doing so, you will give yourself time to think, engage, and really connect with your audience and yourself.
By Barbara Egel, Presentation Coach at Turpin Communication and editor of "The Orderly Conversation."