June 21, 2016 in Author, Dale Ludwig, Posts for Buyers, Talent Development, Training
Originally published on Training Industry's blog June 15, 2016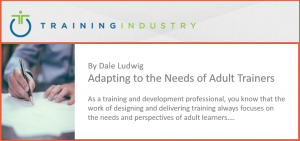 As a training and development professional, you know that the work of designing and delivering training always focuses on the needs and perspectives of adult learners. Learner needs shape how information is organized, delivered and reinforced—the whole process from beginning to end.
You also know that a workshop's success depends on the trainer's ability to deliver it. What is often overlooked is that individual trainers, like individual learners, have unique needs. They have different preferences, concerns and coping mechanisms which must be kept in mind when coaching them to succeed. Let's think of them as adult trainers.
Here are some ideas that will help them succeed.
by Dale Ludwig, President & Founder of Turpin Communication and co-author of the book, "The Orderly Conversation"