April 4, 2016 in Dale Ludwig, Facilitation, Greg Owen-Boger, News, Posts for Buyers, Talent Development, Training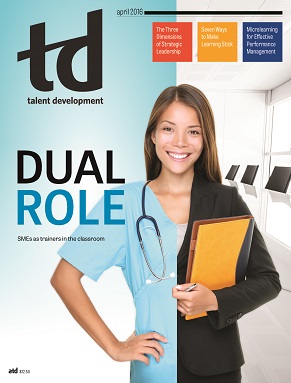 Congratulations to Turpin Communication's Founder, Dale Ludwig, and VP, Greg Owen-Boger, on their cover article for TD Magazine, which is published by the Association for Talent Development (ATD).
Read the full article, published April 1, 2016 at TD.org.
The article is also available as a podcast.
---
Update May 2, 2016
View a webcast about this article. TD Magazine: 5 Ways to Help SMEs Facilitate Learning
Also… Read what Paula Ketter, Publisher, says in her editor's note.
The cover article in this month's issue stirs up some great debate in the world of workplace training: Subject matter experts as trainers or talent development professionals as trainers? There is no right or wrong answer, but there are some critical best practices that should be followed if you're thinking about using SMEs to bring your content to life.
According to authors Greg Owen-Boger and Dale Ludwig, reliance on SMEs to be facilitators in the classroom "brings risk. Although they want to do well in the classroom, it is an environment outside their expertise. SMEs often do not understand that the delivery of information does not equal learning transfer."