One Person, Two Hats:
Coaching SMEs to be Expert Facilitators of Learning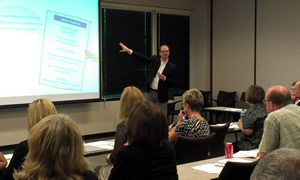 Audience: Learning Professionals who design for or facilitate with Subject Matter Experts
Speaker: Greg Owen-Boger, VP Turpin Communication
Duration: 60 – 120 minutes
Bringing Subject Matter Experts into the training process can bring credibility, depth, and enterprise-wide perspective. It can also be frustrating for designers, co-facilitators, and learners because their expertise – without proper guidance – rarely leads to effective learning.
Why? SMEs have learned to think about what they do from a single perspective. As trainers they need to approach it from a broader one. While it's easy to understand that an SME needs to comfortably wear both their Expert hat and a Trainer hat, the instructional design process needs to start with this concept in mind in order for them to do it effectively.
In this session we'll explore the unique needs of SMEs and examine ways to design learning to help them be successful. We'll also introduce new language and explore non-threatening coaching techniques to help them deliver the content effectively.
This session will include lively group discussion and activities. It will also include a self-assessment of your Default Approach and recommendations for adapting to it. The assessment may be used when working with SMEs back on the job.
You'll learn how to:
Design slides that function both as good visuals and as guard rails to keep the SME on track
Weave the SME's personal stories and experiences into the learning
Coach SMEs to be both content experts and facilitators of learning
Participants From Training 2014 Conference Have Their Say

"Awesome!! This session was so interactive it stood out from the others. Doesn't feel like a lecture or sales pitch. Very nice and so useful! Great tips!"
"Speaker modeled his message."
"I got very useful ideas from this session."
Contact us at
engage@theorderlyconversation.com or call 773-239-2523 if you're interested in learning more.